I don't know about you but we love bright bold colors, patterns and everything in between around here at Fresh Idea Studio!
So a few of my color happy blogging friends and I got together to bring you a Gigantic Vera Bradley Giveaway to really soak up final sizzling days of Summer!
And if  you know Vera you know it's all about big, bright, bold happy colors…
I know (or maybe not) that I gush over how I'm into Lilly but did you know Vera Bradley is one of my favorites too?!
Our 3 daughters and I can't seem to get enough of the stuff! 
What would you do with 13 fun, colorful indulgent Vera Bradley pieces?
Keep them for yourself?
Share with a friend?
Or maybe get a jump start on your Christmas gift list?
Our Gigantic Vera Bradley giveaway is for Y-O-U simply because…
we love our Fresh readers!
Here's what one lucky winner will take home…

5 pieces from Vera's Jazzy Blooms pattern.  
Ensemble includes a Visor, Water Bottle, Small Mesh Tote, Organizer and Photo Frame
3 pieces from Vera's Island Blooms pattern.
Ensemble includedes a Kisslock Wallet, Whitney Purse & a Laptop Travel Bag

Plus 2 pieces from Vera's English Meadow pattern: a Tech organizer & Slim Tote.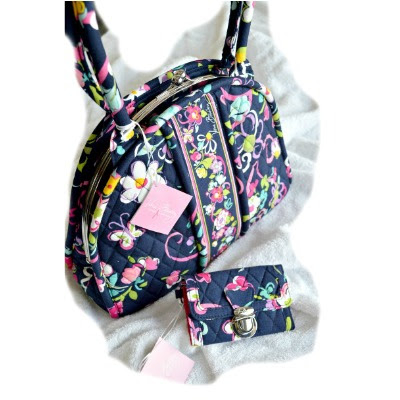 2 beauties from the Ribbons pattern.  
Ensemble includes an Eloise Purse, Quick Swipe Wallet.
And top it off with a classic, Black Wristlet (not pictured)!
Tweet for extra entry points in our Vera Bradley giveaway!  You can earn them everyday!
Giveaway runs from 7/28/14 12:05 AM until 8/3/14 8 PM EST. This giveaway is open to US and Canada residents, winner must be 18 years old, void where prohibited.  Please Click the Rafflecopter below for a copy of the full terms.
This giveaway is not affiliated with or sponsored by Vera Bradley.
Sign up for our weekly newsletter here and have DIY
decorating inspiration, recipes & more sent right to your inbox.